Wedding Anniversary Wishes For Couple – Quotes & Messages

The wedding anniversary is one of the most integral days in one's life. It's a day to celebrate a blissful loop of sweet memories created between a wife and a husband through a heavenly bond called marriage. It's a day that embarks the journey of a couple over the years and how they still
stand unbreakable with each passing day. It's a day that teaches the true definition of love, life, and commitment. It's a day that reminds a couple of eternal, infinite love, and how beautiful life is when together.

If you know a couple whose wedding anniversary is knocking on the door, it's time for you to get ready with some remarkable words to wish the couple and make them feel overwhelmed and
blessed with your gestures.

Don't forget, it's a special occasion and comes once in a year. If you give anniversary wishes for couple in a unique way, you can create a more everlasting, joyful, and happy bond with them. Moreover, it tells the couple close to your heart that you love and care for them. It reveals your true
feelings and also that you have a special place in your heart for them.

However, you don't always need to put in extra efforts to look or create extraordinary words to
inspire the couple. All you need to do is browse through some marvelous collection of marriage
anniversary wishes for couple. Here are some wedding anniversary wishes for couple
to get you a fair idea on how to wish uniquely.
Best Happy Wedding Anniversary Wishes For Couple
To the most loved souls, here's to wish you both love, laughter, and happily ever after. May Almighty shower on you all the worldly happiness in the years to come. Happy wedding anniversary!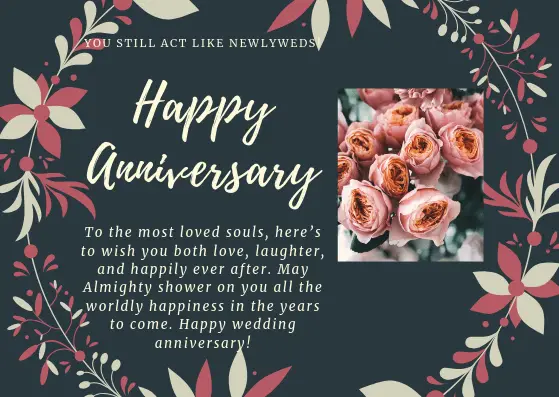 Anniversary wishes for couple
May you both love and care for each other as you do today till infinite. May you create countless memories in the coming years and grow stronger each day. Happy anniversary!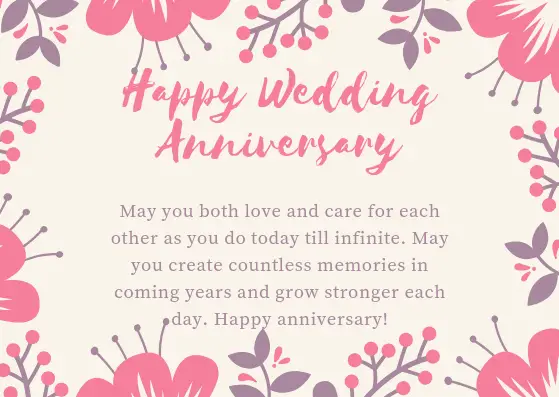 Anniversary messages for couple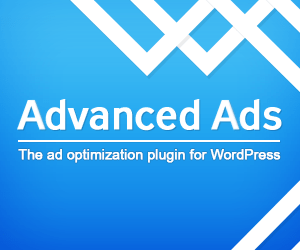 Looking at you two makes me realize that weddings genuinely are made in heaven. May your bond grow stronger like this, and you see many more years of happiness and commitment. Happy anniversary to the couple!
Anniversary quotes for couple
You two are made for each other. May your love grow like wildflowers, may you both enjoy hearts full of memories, love, and eternal commitment. Here's to wish you a happy wedding anniversary!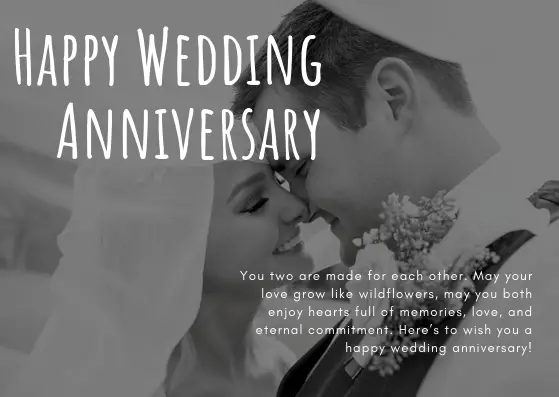 Wedding anniversary wishes for couple
The couples who laugh together, stay together make the most amazing photos. Anyone can notice the spark of happiness in your eyes. Wish you both a happy wedding anniversary!
Also Read – Marriage Wishes for Newly Married Couple
Marriage anniversary wishes for couple
Congratulations on your happy 1st anniversary. May your bonding and love last forever, and you add new dimensions to your love life.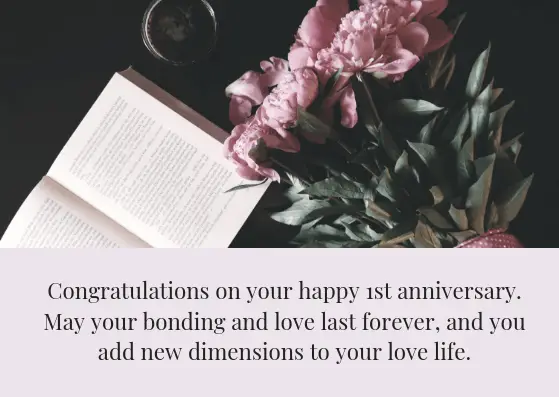 Happy anniversary messages for couple
It seems like yesterday you two got married. Remember I enjoyed the most at your wedding. So, this is to wish my most favorite couple more long years of togetherness and happy wedding anniversary!
Happy anniversary to couple
I must say that you two are a perfect match. Looking at you in the way you are growing old together gives me jitters. Always stay like this. Here's to more years of love life, commitment, and happiness. Happy wedding anniversary!
Also, Check – Romantic Anniversary Wishes for Wife
Wedding anniversary greetings for couple
The day you two got married, I was wondering if you'll be able to tolerate each other or this marriage will soon end up in a divorce. Hahaa. But good job guys, you made it. Wish you a happy marriage anniversary and more long years of togetherness!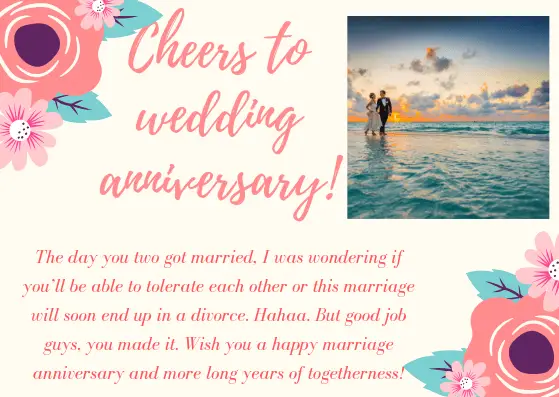 Anniversary greetings to couple
The best way to stay together is to accept each other's mistakes, take a stand for each other, and grow together unconditionally. You two are proof that happy weddings do exist. Wish you more long years of togetherness and love life!
Anniversary wishes to couple
On this best day, I want to wish you both all the happiness in the world, an eternal bond, and countless memories. Happy wedding anniversary!
Get Started with our beautiful anniversary wishes for a couple
So guys, hope you liked my article about Wedding Anniversary Messages For Couple. If you have any suggestions or any queries. Please drop a comment below.