Happy Diwali Quotes, Wishes And Whatsapp Messages For Your Loved Ones!
Diwali- the festival of lights has arrived. It is considered as one of the most auspicious festivals of Hindu. Diwali is celebrated in the month of Kartik. According to mythology, on this day, God Rama came back to his kingdom "Ayodhya" after 14 years of long exilement.
The festival is celebrated by worshipping Laxmi (Goddess of wealth). People wear new dresses on this day. The homes are decorated with lights and clay lamps. The celeration reaches its highest when fireworks starts at night.
Diwali is also considered as the best time to shop. Shops and brands compete each other and provides mouth-watering offers. Here are some amazing diwali wishes that you can send to your loved ones, friends and family. All the designs are created using Canva.
May the festival of joy become more beautiful for you and family. All your new ventures get success and progress. Happy Diwali!
Hoping this diwali turns out to be an extra special for you and your dear ones and may success be always with you.
1. On the auspicious occasion of Diwali, I pray that God fulfills all your dreams. May you get lots of gifts, sweets, and good wishes this Diwali.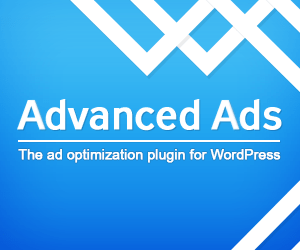 2. May the festival of lights bring lots of joy, peace and prosperity to you and your family. Have a great Diwali.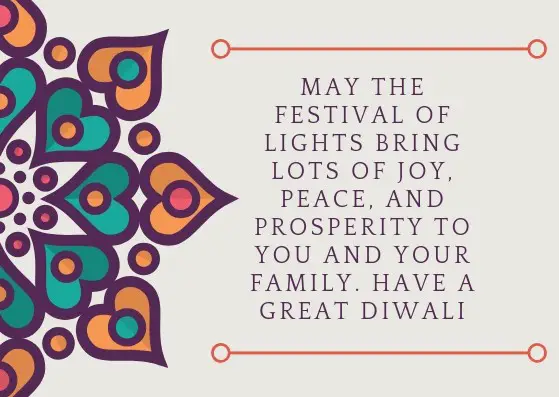 3. Happiness is in air, It's Diwali everywhere. Let's show some love and care and wish everyone out there Happy Diwali !!
4. With gleam of Diyas and the echo of the Chants. May happiness and contentment fill your life. Wishing you a very happy and prosperous Diwali.
5. Life with you is like Diwali, so lets promise to be like this forever. Wish you a happy Diwali.
6. A festival full of sweet childhood memories, A sky of full lights, Mouth full of Sweets, And a heart full of joy, Wishes you a very happy and prosperous Diwali.
7. Here's hoping the that the divine lights of Diwali bring to your life peace, prosperity and good health. Happy Diwali!!
8. Light many lamps of love, blast many chains of sorrow, and shoot many rockets of prosperity, fire many flowerpot of happiness. Wishing you and your family a Sparkling Diwali.
9. Candles to enjoy life, decoration to light life, presents to share success, firecrackers to burn evils, sweets to sweeten success and worship to thanks God. Diwali wishes from heart!
10. May Lord Ganesha and Goddess Laxmi fill your life with never ending joy and happiness. Wish you a very joyful Diwali.
11. I pray to give you Shakti, Shanti, Sampati, Swarup, Saadgi, Sanskaar, Sanmaan, Saraswati, and Sneh. Happy Diwali!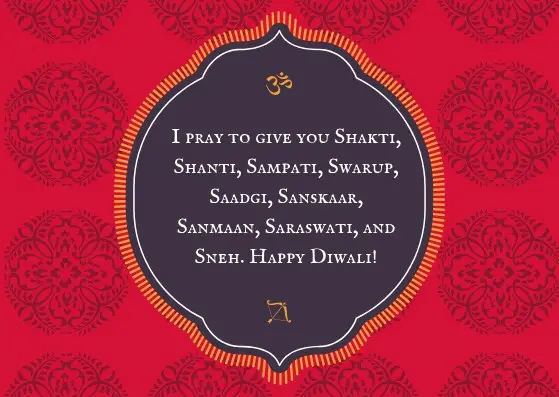 12. Diwali is the best time to create special memories with your family and loved ones. May you create the best of the best memories this Diwali. Happy Diwali 2018.
13. May Goddess Laxmi enter your house this Diwali evening and fill it with wealth, good luck, and prosperity. Happy Diwali 2018!
Hope you liked these Diwali wishes. Happy Diwali to you guys!
Keep spreading love and happiness!