Happy Propose Day Messages, SMS And Quotes For Girlfriend And Boyfriend
This Propose day impress your partner with these awesome Happy Propose day messages, SMS and quotes for girlfriend and boyfriend.
The month of February is very special across the globe owing to the celebration of the much awaited Valentine's Day. The second week of the month of February itself is very special for all those who are already in a relation as well as for people who are looking to start a relationship with their crushes.
Although the second week of the month i.e. on 7
th
February starts with Rose day but the very next day i.e. on 8
th
February it is the Propose day. This is a 'do or cry' day for those who are seeking a relation with their loved ones. Propose day provides an opportunity for those people to gather enough courage to confess to their crushes and ask for a commitment. Once that happens, they're officially in a relation and a couple who can now prep them up and get ready to celebrate the Valentine's Day together happily.
So if you've been waiting for the perfect time to announce your love, then this is the day. And for the people who are already in a relation, they can use this opportunity to revive their relation and go back to those early days of their journey together.
So here are few propose day quotes for boyfriend, propose day quotes for girlfriend, propose day quotes for husband, propose day sms in hindi, happy propose day shayari and propose day shayari in hindi which you can send to your loved ones and propose them to make them yours forever. Best of luck!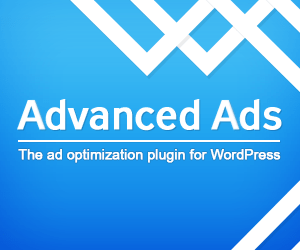 "I am free for the rest of my life. Are you? Shall we? Happy Propose Day"
propose day messages
"अगर तुम न होते तो ग़ज़ल कौन कहता!
तुम्हारे चहरे को कमल कौन कहता!
यह तो करिश्मा है मोहब्बत का!
वरना पत्थर को ताज महल कौन कहता!"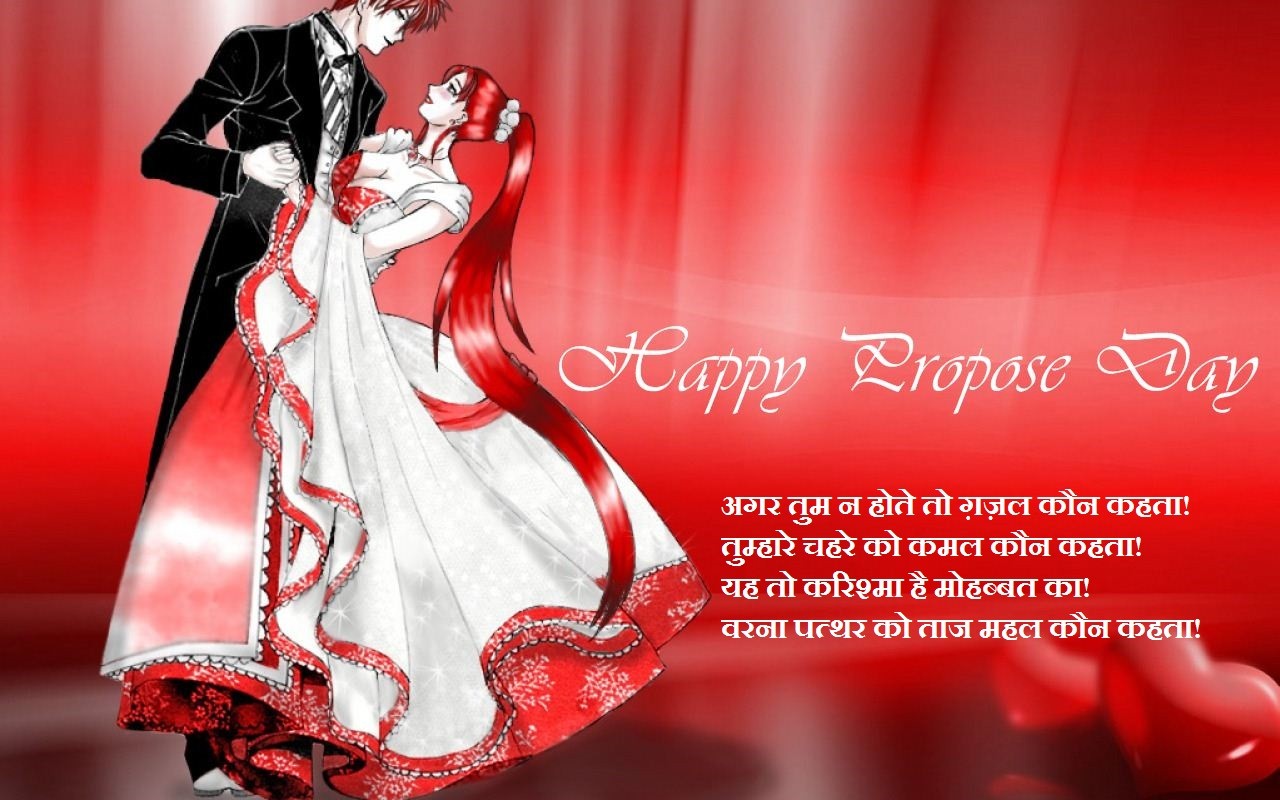 propose day status in hindi

"Yun To Sapne Bahut Hasi Hote Hai,
Par Sapno Se Pyaar Nahi Karte,
Chahate To Tumhe Hum Aaj Bhi Hai,
Bas Izhar Nahi Karte!!!"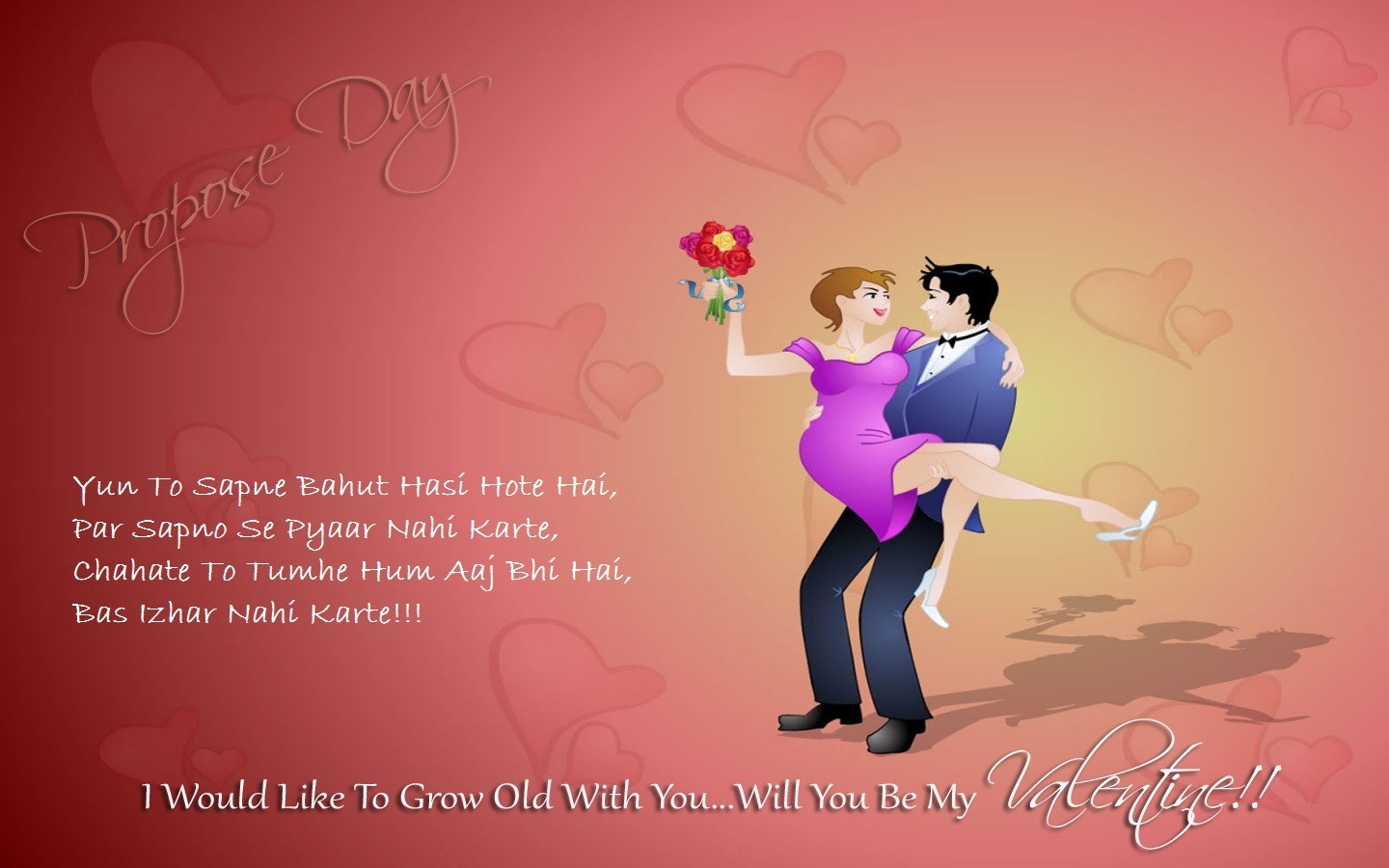 propose day quotes in hindi
"By the moon as I sit to seek your glory, the white roses I see, creates a new story. Seasons are many their reasons few what remains is that I will always love you!"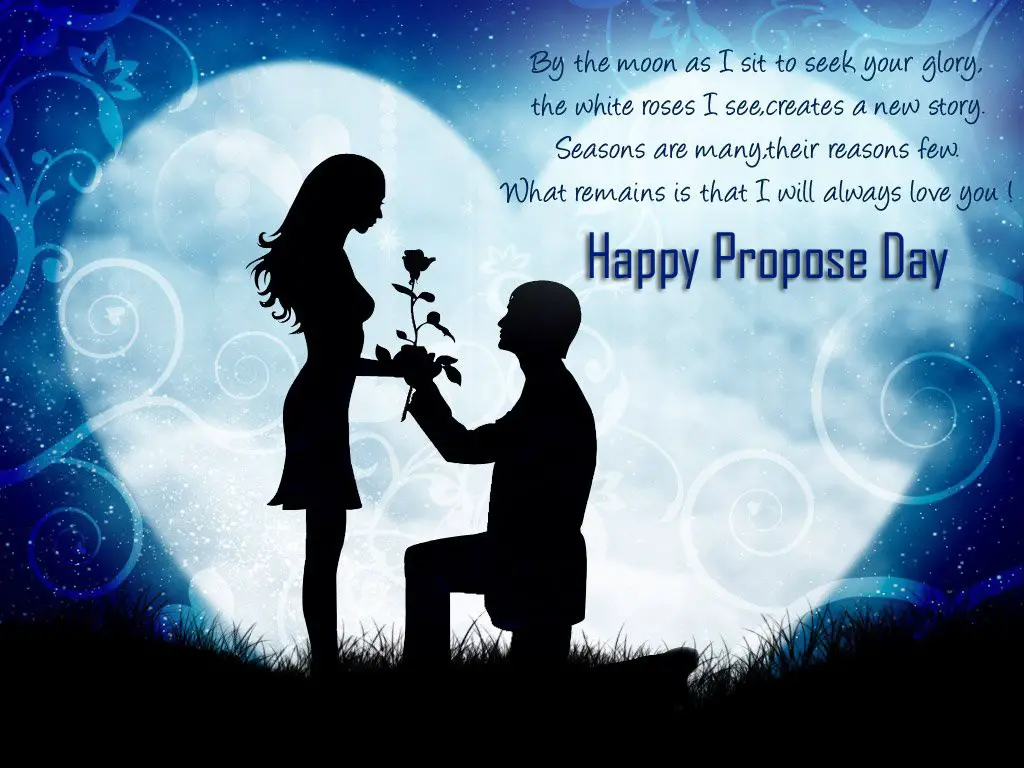 propose day status for whatsapp
"Let's spend the rest of our lives together holding our hands. Let's grow old together. Happy propose day"
propose day shayari
"Let me love you if not for the rest of your life then for the rest of mine"
propose day sms
"Dil ye mera Tumse Pyar karna chahta hain,
Apni Mohabbat ka izhaar karna chahta hai ,
Dekha hain jab se Tumhe aye mere Sanam ,
Sirf tumhara hi Dedaar karne ko dil chahta h."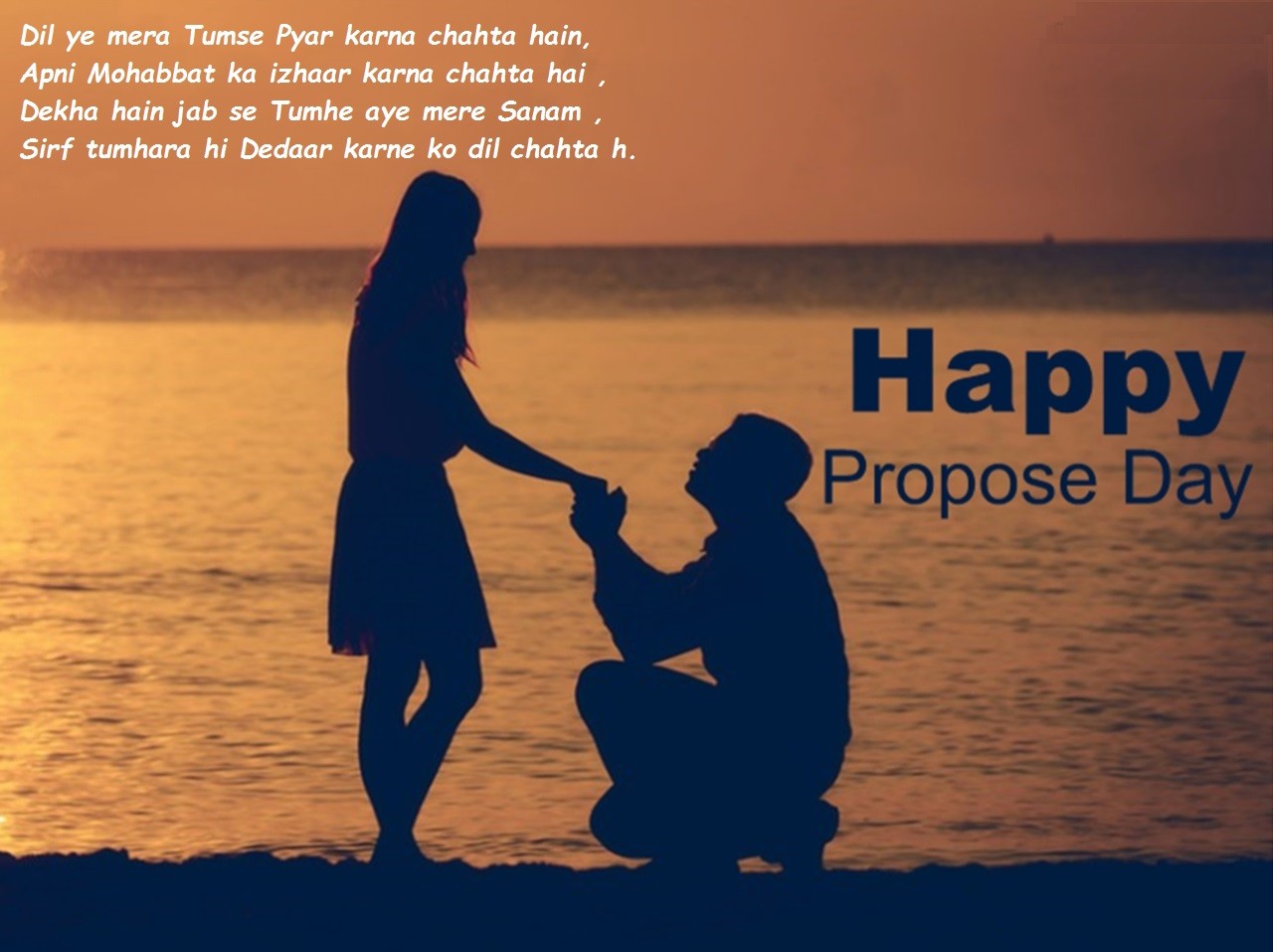 propose day quotes
"Given a chance, I would like to be one of your tears. That way, I could be born in your eyes. run down your cheek and die on your lips. Happy propose day"
happy propose day quotes
"If love is a fairytale then I have got my fairy in you. Let's create our own story. Happy propose day"


propose day wishes
"इकरार में शब्दों की एहमियत नही होती,
दिल के जज़बात की आवाज़ नही होती,
आँखें बयान कर देती हैं दिल की दास्तान,
मोहब्बत लफज़ो की मोहताज़ नही होती!"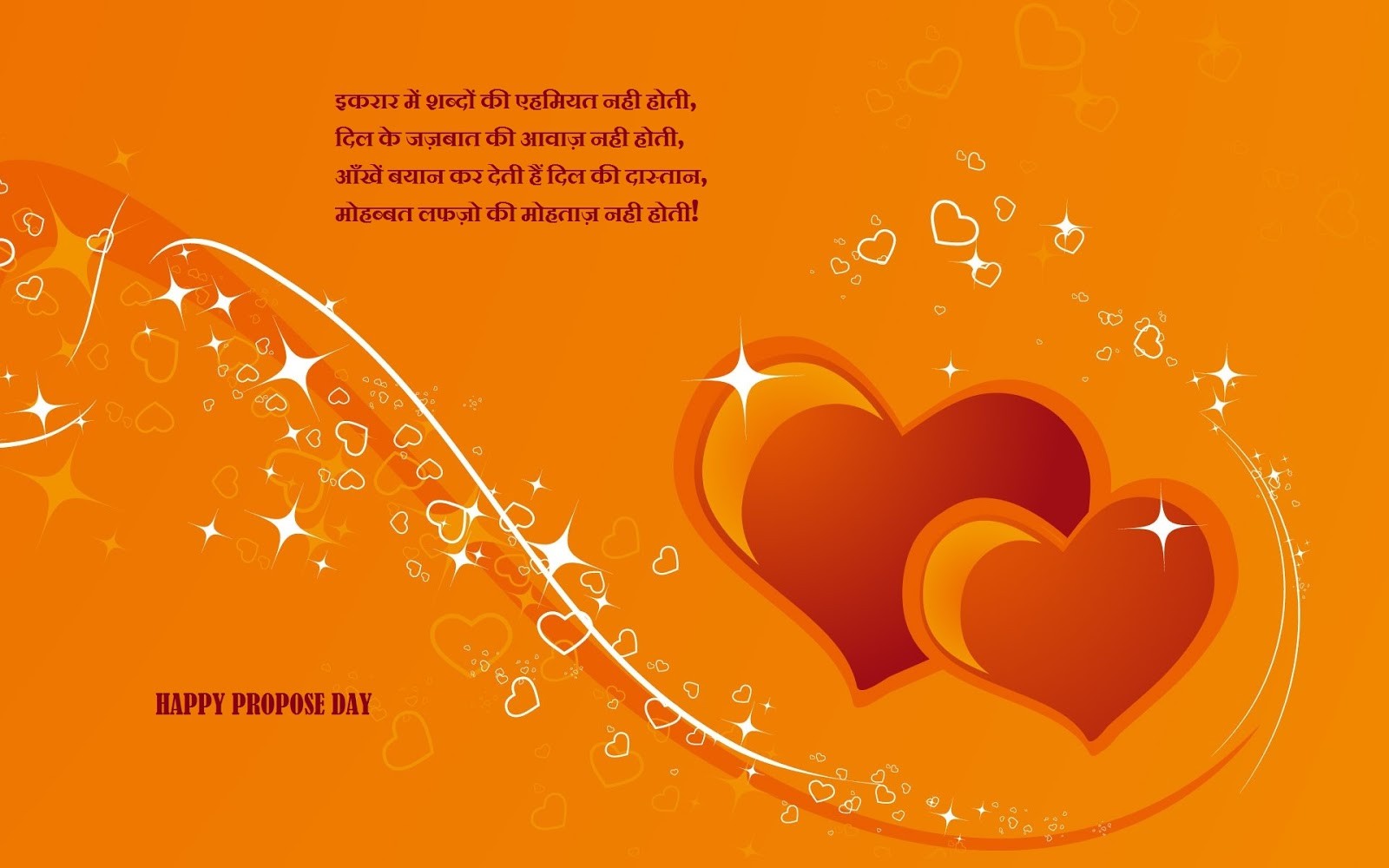 propose day msg
Incoming Search Terms
propose day quotes for boyfriend
propose day messages
propose day quotes for girlfriend
propose day status in hindi
propose day quotes in hindi
propose day quotes for husband
propose day status for whatsapp
propose day shayari
propose day sms
propose day quotes
propose day sms in hindi
happy propose day shayari
propose day shayari in hindi
propose day msg
happy propose day quotes
propose day wishes