Happy Ganesh Chaturthi Quotes To Send Your Friends

Presenting here some awesome happy ganesh chaturthi quotes you can share with your loved ones. So the time to celebrate the religious festival of Ganesh chaturthi has come and everyone is prepared with all the zeal to honor lord Ganesha. Ganesh Chathurthi also known as Vinayaka Chavithi is in tradition to celebrate the birthday of Ganpati Bhagwan, son of Lord Shiva and Parvati. This festival brings people of all castes, religions and creeds together.
To celebrate the occasion of Ganesh chaturthi, people decorate Lord Ganesha in various forms especially in bigger figures to get his blessings. They make use of coconuts, flowers and sweets to be offered to Ganpati at such times. People also exchange various Ganesh chaturthi quotes with their friends, relatives and dear ones to acknowledge this beautiful festival.
Below are some lovely Ganesha quotes to be shared, have a look!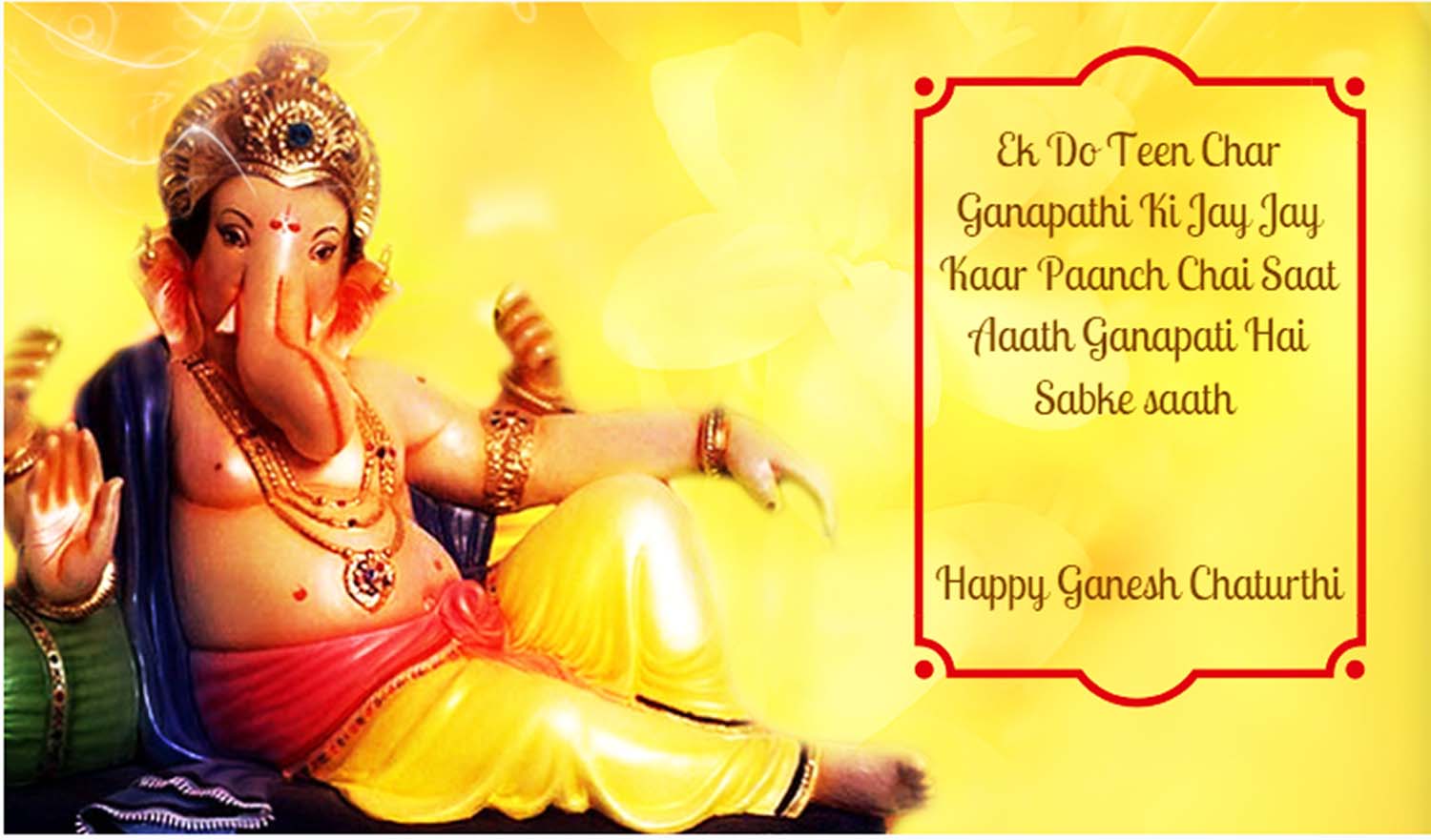 Ganesh chaturthi quotes
Ek Do Teen Char,
Ganapathi Ki Jay Jay Kaar,
Paanch Chai Saat Aaath,
Ganapati Hai Sabke saath-
Happy Ganesh Chaturthi!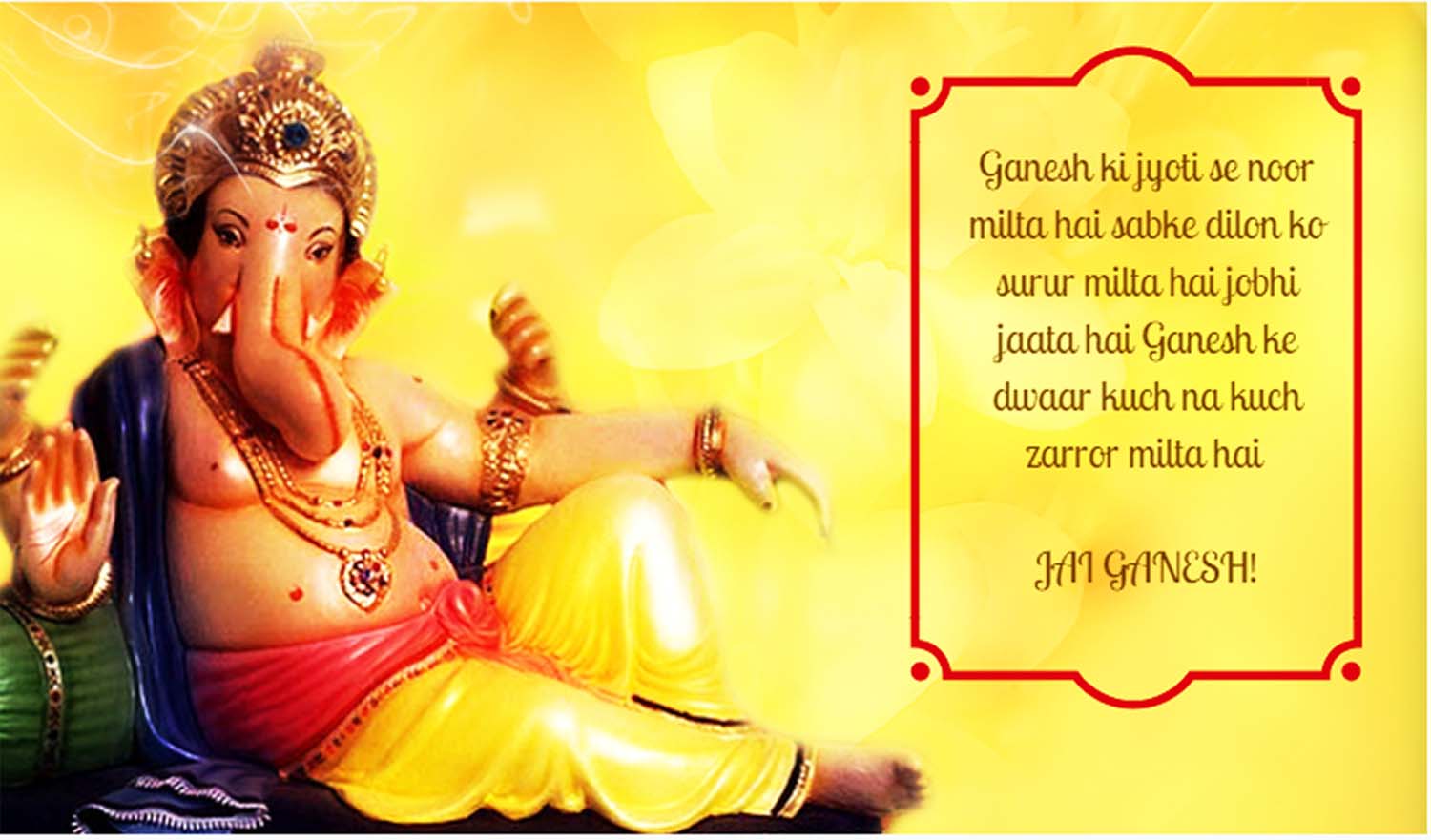 Ganesh Festival Quotes
Ganesh ki jyoti se noor milta hai,
Sabke dilon ko surur milta hai,
Jobhi jaata hai Ganesh ke dwaar,
Kuch na kuch zarror milta hain-
Happy Ganesh Chaturthi!
Ganesha quotes
Phool Ki Shuruvat Kali Se Hoti Hai,
Zindgi Ki Shuruvat Pyar Se Hoti Hai,
Pyar Ki Shuruvat Apno Se Hoti Hai,
Aur Apno Ki Shuruvat Aapse Hoti Hai.
Happy Ganesh Chaturthi my friend!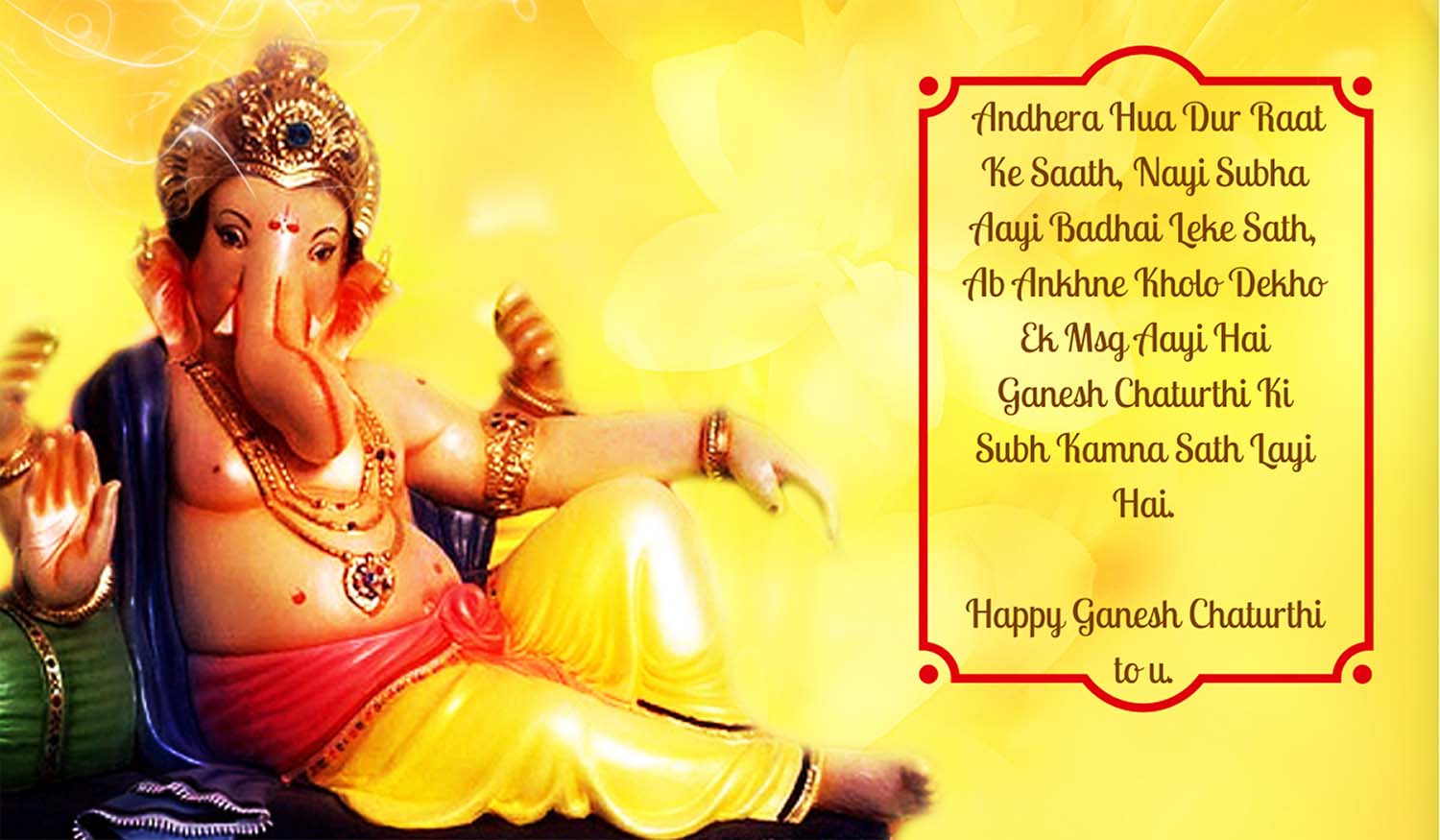 Happy Ganesha Chaturthi Quotes
Andhera hua dur raat ke saath,
Nayi subha aayi badhai leke sath,
Ab ankhne kholo dekho ek msg aaya hai Ganesh
Chaturthi ki subhkamna sath laya h!
Happy Vinayak Chaturthi Quotes 2017
Pag Me Phul Khile, Har Khushi Aapko Mile,
Kabhi Na Ho Dukho Ka Samna,
Yahi Meri Ganesh Chaturthi Ki Shubhkamna…
Wish u a Happy Ganesh Chaturthi!
Happy Ganesh Chaturthi Quotes 2017
Khushiyo se bhara ho aangan ghar ka,
na pas aaye koi saaya bhi dar ka,
apno k sath ye pawan utsav manaye,
Ganesh Chathurthi ki shubhkamnaye!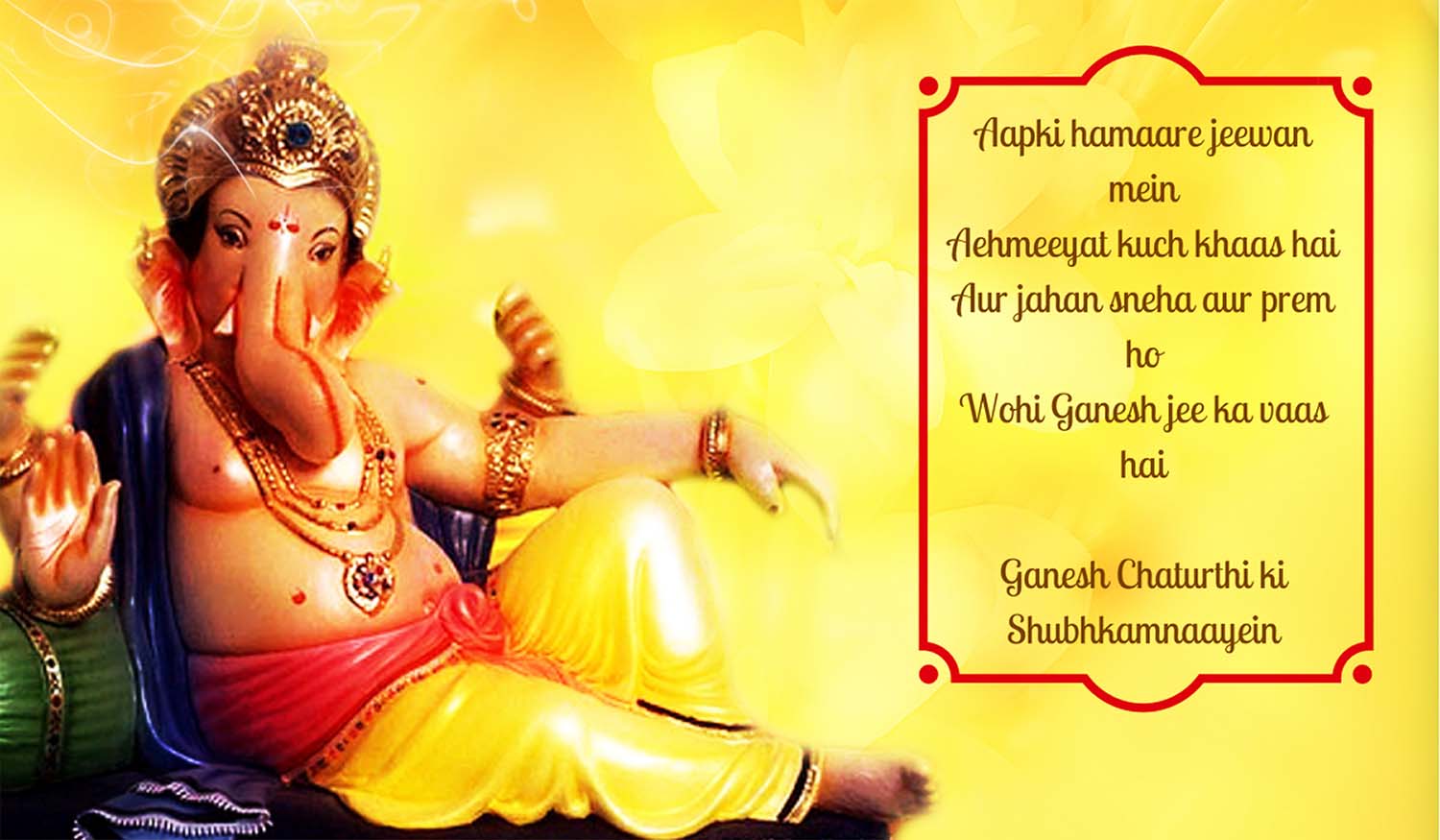 lord Ganesha quotes
Aapki humare Jeevan mai ahmiyat kuch khaas hai,
aur jha sneh or prem ho waha Ganesh ji ka Vass hai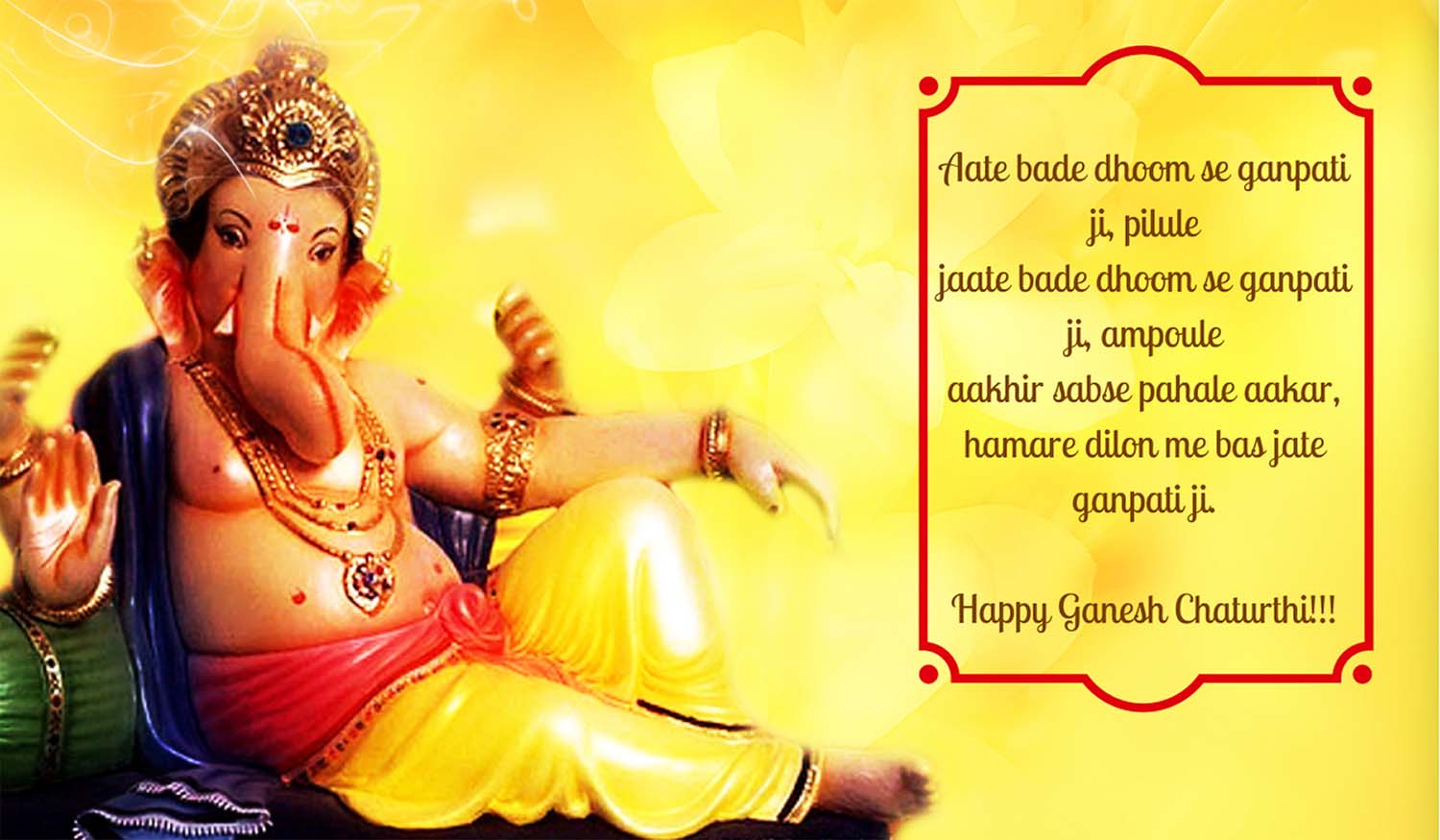 Lord Ganesha Utsav Quotes 2017

Aate bade dhoom se Ganpati ji,
Jaate bade dhoom se Ganpati ji,
 Aakhir sabse pahle aakar,
 Hamare dilon me bas jate Ganpati ji.
 Happy Ganesh Chaturthy!!!
poori ho aapki sab aasha, 
Ganeshotsav joro shoro se manaye
yhi h humari shubhkamnaye 
Happy Ganesh Chathurthi!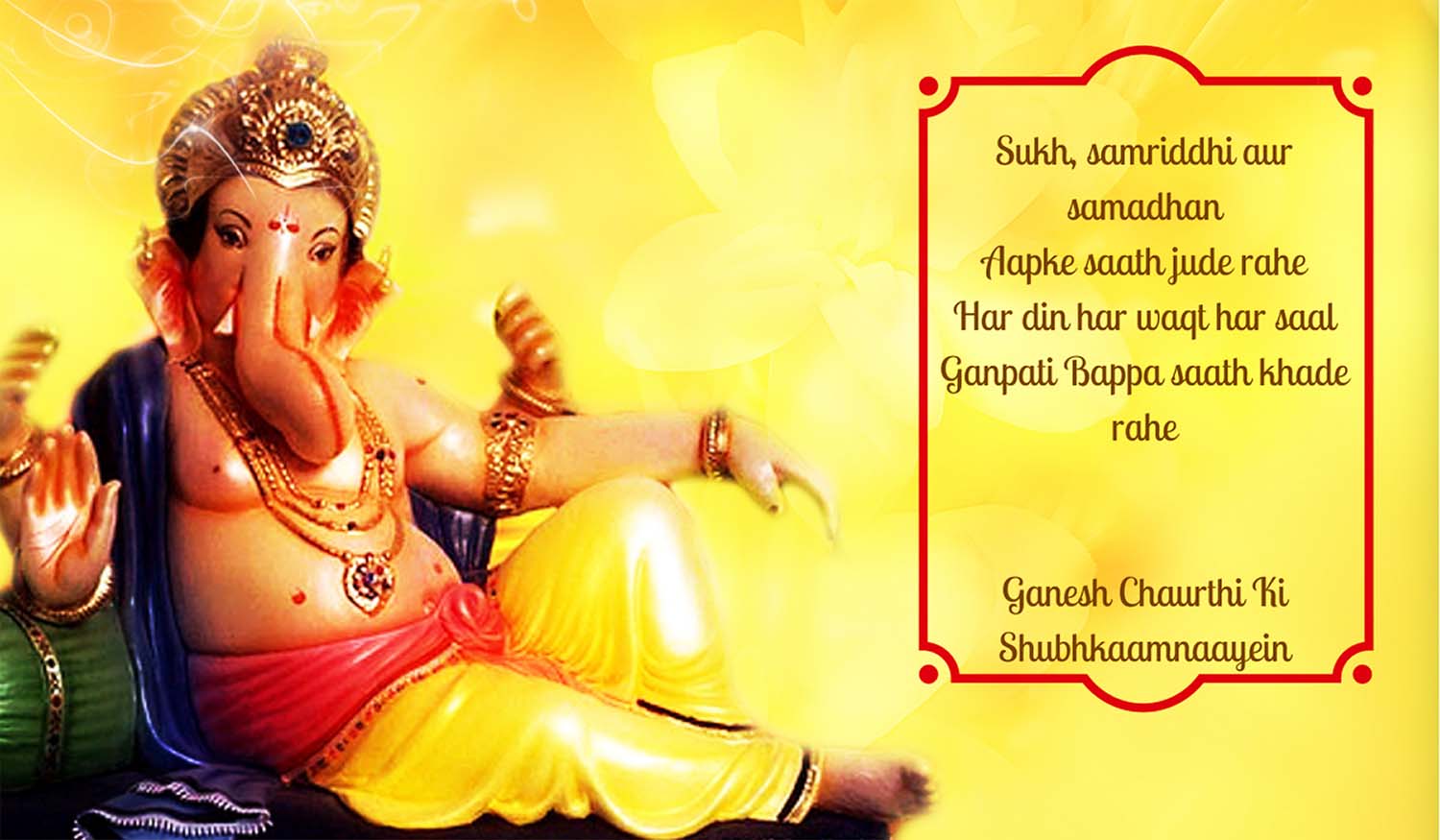 Happy Ganesh CHaturthi 2017
Sukh, samridhi aur samadhan aapk sath jude rahe,
Har din har waqt har saal Ganpatti Bappa sath khade rahe! H
appy Ganesh Chaturthi!!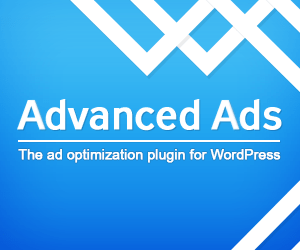 Incoming search terms
Ganesh chaturthi quotes
Ganesh quotes
Lord Ganesha quotes
Happy ganesh chaturthi quotes
Ganesha quotes
I really hope you loved these ganesh chaturthi quotes. Lord ganesh is is first worshiped god in Hinduism. Reciting these ganpati quotes will definitely bring good luck to you and your family.
Jai Ganesh, kaato Kalesh 🙂